Any media logos and or trademarks contained herein are the property of their respective owners and are not an endorsement by those owners of our firm or this presentation.

helping you find financial peace
is our first priority
The Biance Brothers and their associates are not just knowledgeable about finances, they also understand the importance of priorities, family and confidence in your financial future.
It's our responsibility to evaluate your financial situation and only make recommendations that best fit your financial goals, and we do so with transparency. At J. Biance Financial, we are not brokers; we are Investment Adviser Representatives with a responsibility to serve you.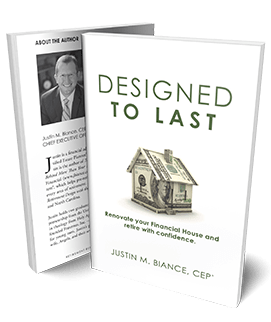 Download the first chapter of Justin's new book:
Designed to Last
Renovate Your Financial House and Retire with Confidence.
It never hurts to get a second opinion.