Any media logos and or trademarks contained herein are the property of their respective owners and are not an endorsement by those owners of our firm or this presentation.
Retirement should be about more than simply having a roof over your head. Our team has extensive experience in crafting a financial house for our clients — so you can account for the biggest threats to a confident retirement.
Retirement Design System®
From foundation to roof, our proprietary process helps address doubts that often come with retirement.
Get started in three easy steps:
Visit with us and share your goals and concerns for retirement.
Go in-depth on your unique financial situation and mutually decide if we should move forward together.
Enjoy your custom-built retirement strategy, complete with investment, income, tax, healthcare and legacy planning.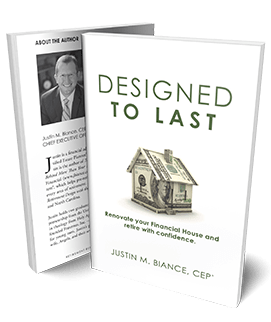 Download the first chapter of Justin's book:
Designed to Last
Renovate Your Financial House and Retire with Confidence.
It never hurts to get a second opinion.