As I am sure many of you are, I am a big movie fan. When I was a kid, we lived on the south end of Sebring on Lake Josephine. Sometimes on Friday nights we would go to the movie store and it was the highlight of my week. For a time, in the Southgate Shopping Center, there were two options: Bronto Video or Movie Gallery. Once in a while, we would make the long drive to Blockbuster Video which stood on Highway 27 in front of Wal-Mart. Even though the store I walked through would change, some of my fondest childhood memories would be when we would "Make it a Blockbuster Night" The only downside to my glorious trips to the video store was having to make a compromise on which movie to rent with my sister, Wendi or my brother, Justin, .
Blockbuster Video is a prime example of a company that held a dangerous viewpoint. A classic case of resting on your laurels. In 1988, they had amassed 400 stores and by the early 1990's, they had opened their 1,000th store. They were the proverbial king-of-the-hill. However, in 1997 a new DVD rental company launched; its name was Netflix. A mere three years later, Netflix CEO Reed Hastings approached Blockbuster Video attempting to sell the company he had started. The asking price was $50 million dollars, Blockbuster passed[1]. In some senses, the management team at Blockbuster Video lacked vision. However, in their defense, at the time Netflix was a DVD-by-mail only service, not to mention, they were losing money.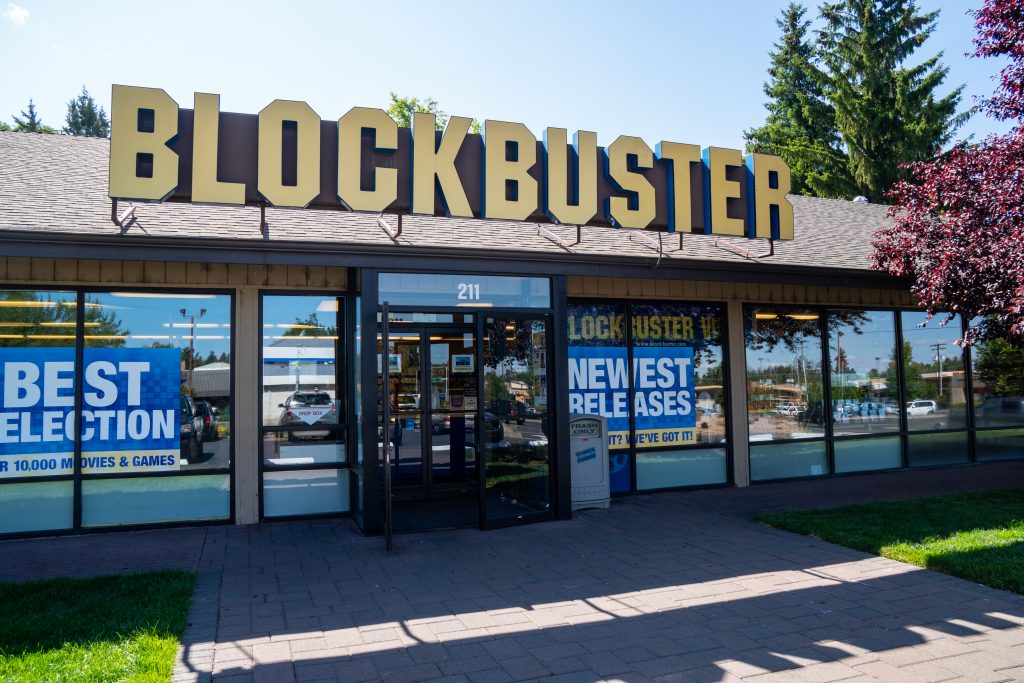 In 2003, three years after Blockbuster passed on buying Netflix, another unlikely company attempted to enter the home video DVD market – McDonald's. The fast-food chain was looking to cross-sell customers who were already in their stores; enter Redbox. By 2007, the Redbox kiosks surpassed Blockbuster in number of U.S. locations. This happened to also be the same year that Netflix expanded their long-term vision and launched their streaming service. For a time, there were three main companies vying for the home video throne, but not for long. In 2010, Blockbuster Video filed for Chapter 11 bankruptcy protection. A former powerhouse had died, a king had relinquished his throne.
Netflix has proceeded to dominate the home entertainment market. However, unlike Blockbuster, they have not rested on their laurels. Instead, they decided to create their own original content, beginning with House of Cards in 2013. The Netflix Original show would proceed to collect 33 Primetime Emmy and 8 Golden Globe nominations over its six-season run. Netflix went on to create a flurry of successful TV shows as well as full length feature films. In 2020, it collected 24 Oscar nominations, beating out the behemoth Disney, who had 23.
Blockbuster Video's fall from grace is breathtaking in its descent. It is a prime example of a champion who believes their reign will never end. Not to mention, their business model was flawed due to the fact that a large portion of their profits was derived from something that their customers hated: late fees. Netflix on the other hand, put themselves in their customers' shoes and delivered what they wanted. They have been extremely innovative and the biggest players in the world have taken notice. Since the start of Netflix's reign, the following streaming services have launched: Amazon Prime Video, Apple TV+, Disney+, YouTube TV and HBO Now. As they say, imitation is the sincerest form of flattery.
I have heard it said that the most dangerous phrase in the human language is "That's the way we've always done it." Similar to Blockbuster, retirees should be mindful of the way they approach investing. As they approach retirement, their investments and their plan should change accordingly. Another issue to consider is sticking to their current portfolio mix after this recent volatility. Due to COVID-19 and the grave impact on the stock market, the economic environment has changed. The landscape is different and your portfolio should be positioned for what is ahead, not what is behind us. All investors should seek guidance that thinks like Netflix, not like Blockbuster.
That's my 2 cents.
Investing involves risk, including the potential loss of principal.
The information contained in this material is for informational purposes only. It is believed to be reliable, but accuracy and completeness cannot be guaranteed; it is not intended to be used as the sole basis for financial decisions. Investment advisory services offered only by duly registered individuals through AE Wealth Management, LLC (AEWM). AEWM and J. Biance Financial are not affiliated companies. 601209

---
[1] https://www.businessinsider.com/blockbuster-ceo-passed-up-chance-to-buy-netflix-for-50-million-2015-7